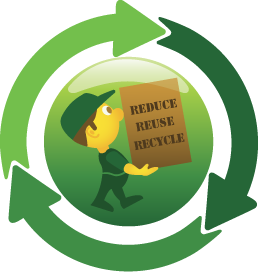 Waste removed during house clearances is recycled
At House Clearance Bournemouth, our policy is to recycle as much as possible and to donate useful items to charities. Not only does this help reduce landfill and support worthy causes, it helps to keep our costs lower.
Recycling household goods responsibly
When considering recycling people automatically think of paper, cardboard, glass and plastic,
rarely giving a second thought to what will be happening to the white goods and general electrical
appliances once it's decided they need to go down the tip.
The fact is Electrical equipment is the fastest growing category of rubbish across the European Union.
This seems to make sense when you consider how much we rely on electronic and electrical
goods to enjoy life and to function in our workplace in modern society.
But it's perhaps a little frightening, that according to
statistics around 20kg per person of electrical waste is created every year.
The UK now produces around 1 million tonnes of waste in electrical equipment.......
and what many people do not realise is that as well as other laws such as packaging regulations,
in 2004 the EC passed a directive on Waste Electrical and Electronic Equipment.
Licensed and registered
At House Clearance Bournemouth, we are fully compliant with the WEEE regulations and are fully aware of what it entails to remain legal. We are licensed and registered with Bournemouth City Council, covered by liability insurance and offer WEEE/IT recycling. Many of the items that are collected are taken to charities and other organisations where they are often reused. The remainder is taken to Licensed Waste Transfer Stations where most of the materials are then recycled for reuse. Very little ends up in landfill.
A charitable company
Our years of experience mean that we know what items charities are keen to accept. Charities have limited storage space in shops and need quick sales. We regularly donate to The British Heart Foundation, Age Concern, The Salvation Army and Cancer Research amongst others.
Better than a skip
When you hire a skip you are completely responsible for sorting the contents of your property and transferring all rubbish into the skip. We sort and remove all rubbish for you for one fixed fee. Additionally, when you hire a skip, it is very likely that you will be transferring all the unwanted contents of your property into the skip, which will then go to landfill. We are very environmentally aware, and we ensure we recycle as much as possible whenever we carry out a property clearance.
We are very aware of the impact which property clearance can have on the environment, and are actively working to ensure that an absolute minimum level of the items which we handle end up in landfill. We also ensure to donate as many items as possible including clothing and bedding to charities.